There are some older design trends that make every kitchen feel outdated. If any of these trends still exist in your kitchen, consider updating them before trying to sell your home.
Plastic or dull metal kitchen appliances
Today's design trends are all about stainless steel appliances. Plastic or dull metal appliances, even if they are in decent shape and are well maintained, can make a kitchen look outdated. If the kitchen appliances are made out of anything but stainless steel, they will stick out like a sore thumb to homebuyers. A unified stainless steel look can instantly make the home appear more modern.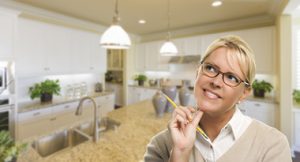 Linoleum floors
Another trend that can instantly age your kitchen is linoleum flooring. While linoleum flooring can be a cheap option, it is definitely not one of the more modern choices. These days, most homeowners are opting for ceramic tile or hardwood instead of linoleum flooring. If you are looking for a more affordable alternative to hardwood, consider using a laminate flooring. Many look almost as good as real hardwood but can be installed for a fraction of the cost.
Plastic, vinyl or laminate countertops
Today, it is all about the solid stone countertops. Granite, marble or quartz countertops can instantly update the look of your kitchen, making it seem like one of the most upscale rooms in your home rather than a dated afterthought. Many new homeowners will choose to get rid of older countertops and upgrade their kitchen counters to granite, marble or quartz.
Rundown cabinet doors and hinges
One of the easiest ways to give your kitchen a makeover is to update the cabinet doors and hardware. Open-faced cabinets have become increasingly popular in recent years, so if you really hate the existing cabinet doors, consider removing them entirely (at least on the upper rows of cabinets). The open cabinet look takes some work to maintain—your cabinets have to stay organized in order to preserve the look—but it's a cost-effective way to update your kitchen.
If open-faced cabinets do not appeal to you, consider adding a new coat of paint or some new, modern metal door handles and hinges. This can be another affordable way to give your dated cabinetry a facelift.
Tags:
Real Estate News
,
updating
Comments Off

on 4 Old-school Kitchen Design Trends That Need Updating